Performance stats - Android & iOS apps - April 2015
What happened in April
April started pretty normal. The downloads where growing and it seemed as the new "Follow the Line 2" game from the creator of the original game didn't really affected my downloads. From 1st April to 6th Follow the Line 2D Deluxe had around 8k downloads per day and I was happy. Than on 7th April all started! My daughter was ill, so I stayed at home and had the google analytics realtime statistics open. Around 2 pm I saw an enormous increase in the active users. I had normally on this time of the day on a work day around 300 online users and now there where almost 700! Lots of them where from Italy and that was strange, because my game wasn't even in the ratings there. This trend continued and in a couple of hours the online users where almost a tausend!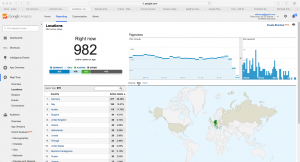 I didn't know why this is happening, so I tried to find out. The next day it was clear. Google have featured my app in the category "Most Popular Games" in almost 30 countries. Most of the countries where in Europe, so I got lots of downloads from there.
In the next days the downloads continued growing and the concurrent online users with them: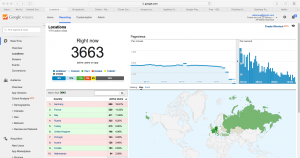 At the end of the month I had 2.3 million new downloads: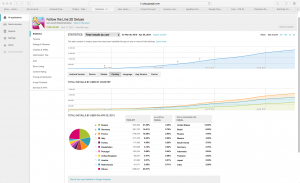 and over a million current installs!
Featuring the game on the play store had also some other interesting effects:
First of all the iOS downloads went also up: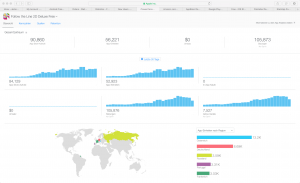 The play store ratings went from 3.73 to 4.1. This was also very nice surprise.
One other thing that I wasn't expecting was the limit of Google Analytics. Apparently in the free version there is a limit of 10 000 000 screen views per month and I crossed this limit somewhere in mid April. After I crossed this limit the statistics got very inaccurate, so I had to look for another solution. I checked out what was the price to switch to Google Analytics Pro, but they have a flat price of $150 000, so I looked for another alternative…
And of course some of my other apps got more downloads (you can see the increase in the income from the other apps in the table below).
What I did
I concentrated all my effort on Follow the Line 2D Deluxe. There where some complains that the game don't work on some devices with Lollipop so I upgraded to Unity 5.0 to solve this problem. I also optimized the ads and added some new levels.
I also changed the analytics to Flurry, because of the Google Analytics max screen views per month limit.
I also bought a new Windows 8 phone and started porting the game. The game now runs on Windows phone, but there are lots of other problems that I need to work around. E.g. there is no out of the box leaderboard for Windows phone (like google play game services or game center). Also the Facebook plugin don't work on Windows. And of course I need to look for some ad networks that I can use there…
How did the apps performed
I plan for the future to change the report a little bit. I will publish in more details the app performance and leave the income stats out, so this is maybe the last income report, hence the new name.
And here are the numbers:
2015
Month /
Year
Follow the Line
Others
Total
Android
iOS
Sum
Ads
Sales
Ads
Sales

April

$27333.80

$97.67

$1604.79

$130.00

$29166.26

$343.11

$29509.37
March

$1869.84

$6.18

$321.60

$37.71

$2235.33

$169.03

$2404.36
February

$1086.84

$6.89

$70.33

$118

$1282.06

$116.28

$1398.34
January

$1052.34

$10.30

$0.00

$158.10

$1220.74

$127.43

$1348.17
2015

$31342.82

$114.15

$1996.72

$325.81

$33779,50

$880.74

$34660.24

2014

$1630.59

$58.90

$0.00

$167

$1856.49

$3714.79

$5571.28
2013

$0.00

$0.00

$0.00

$0.00

$0.00

$4119.86

$4119.86
2012

$0.00

$0.00

$0.00

$0.00

$0.00

$2327.95

$2327.95
All Time

$32973.41

$173.05

$1996.72

$492.81

$35635.99

$11043.30

$46679.33
What is it to come
I will now concentrate on Follow the Line 2D Deluxe, so my new game will be delayed a bit. There are lots of things that I want to do, like porting it to windows phone, some new levels, some other upgrades etc…
Conclusion
Yes, it is worth it!